USE THE DROPDOWN MENU ABOVE, UNDER TAROT OF TRANSFORMATION, TO ZOOM INTO THE MAJOR ARCANA, CUPS, SWORDS, WANDS AND DISKS.
ORIGINS OF THE TAROT OF TRANSFORMATION
The TAROT OF TRANSFORMATION was born from a marriage of my visionary artwork with my long journey into the psychological and spiritual arts. After repeated requests to produce a deck, I surrendered to this grand project. While I began to work on the images, Jasmin Cori graciously agreed to the task of crafting our ideas into words, and wrote the text for this tarot.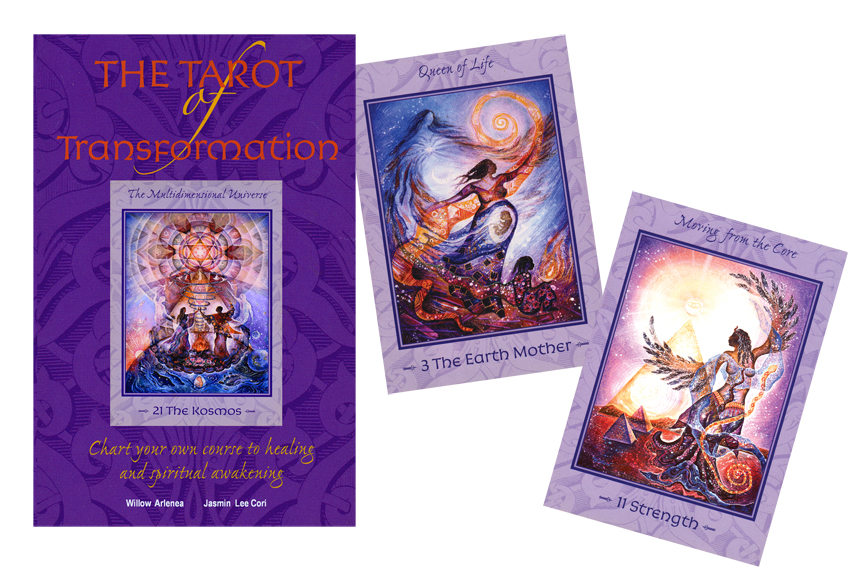 The underlying perspective of this deck is one oriented toward deep spiritual transformation. The goal of transformation is not just to experience higher states of consciousness, it is to have your human person and human life transformed and reshaped in accordance with spiritual realization. Every topic discussed in this deck – including creating balance in your life, working with the shadow, recovering instinctual wisdom and releasing stuck energy – is a building block for transformation.
THE FOUR SUITS

The suit of swords represents the mental realm, and we use images from sacred geometry to illustrate the basic blueprint in patterns that precede manifestation. The suit of disks works with daily life and manifestation, and uses animal imagery. The cups represent the emotional realm. As a framework for this exploration we talk about many of the defensive strategies that have been part of several psychotherapeutic approaches, including Gestalt and the Hakomi method. In the suit of wands we explore basic Chi energy and the energies of the charkas. We also explore subtle energies in nature and the spirit world. Devas, angels and fairies often illustrate this suit.
OVERVIEW OF THE MAJOR ARCANA
Check out my YOUTUBE VIDEO that shows all the images in the major arcana! Ali my  assistant and video goddess made this video.
PRAISES FOR THE TAROT OF TRANSFORMATION

Tarot of Transformation is by far my most favorite deck. I give out several each year as holiday presents. I love the powerful feminine images and the encouragement toward mindfulness adapted from the Buddhist tradition. It is self-empowering and very educational. — TS

I love how this deck takes you to the next step of the journey. — CD

The Tarot of Transformation moves us to truly transform our lives and ourselves. Tarot itself has undergone a transformation in the hands of Willow and Jasmin. While the basic format remains, we see the Empress becoming the Earth Mother, and the Emperor becoming the Green Man. The Devil becomes Separation From the Source, reminding us to see this archetype in a new way. — NL

The cards of this deck are incredibly beautiful. Their colors, design elements and sense o0f movement create a feeling of positive aliveness. — NL

I am writing to tell you that the tarot deck you've created is not only the most beautiful that I've seen, it is for me the most magical and mystical. I've wanted to work with the tarot for years, but never found one that expressed all the qualities I was looking for. Then at last I found your deck, and fell in love with it! — MM

The Tarot of Transformation is an elegant body of work. These two women have woven together the wisdom of the traditions of Tarot with diverse and comprehensive understandings about human psychology, spiritual development, and real transformation processes. They offer maps through the inner worlds of human development, along with providing practices and principles for navigating that vast terrain. In addition, the images provide potent doorways into the soul, gifting each of us who use this deck with immense inspiration, beauty, and diverse ways to receive the teachings of each card. The energy in these cards is clear, clean, and truly aligned with the Spirit of transformation. These cards are a gift to the world, accessible to all kinds of people. — MM